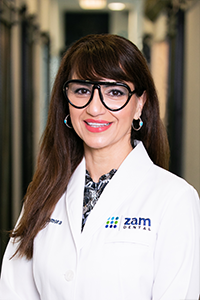 Dr. Melody Zamora is a dedicated dentist and the owner of Zam Dental. At the practice's two locations in north and southeast San Antonio, Texas, Dr. Zamora provides comprehensive dental care, including general dentistry, cosmetic dentistry and emergency dentistry, using cutting-edge technology.
Dr. Zamora practices whole-body dentistry, which means she takes an integrative approach and is always happy to work with other medical providers, such as medical doctors, to ensure optimal patient care.
With her commitment to making her patients the number one priority, Dr. Zamora offers a wide range of services, including crowns and bridges, teeth whitening, sleep apnea treatment, dentures, and restorations for dental implants, along with many others.
Dr. Zamora treats her patients like family, and she draws accolades for her approach. Under Dr. Zamora's leadership, Zam Dental has won several local "Best Dentist" awards and regularly gets the highest marks from their patients.
Dr. Zamora earned her undergraduate degree at Texas State University in San Marcos, Texas, where she graduated magna cum laude in biomedical science. She followed that by earning her dental degree at Oregon Health & Science University in Portland, Oregon. Dr. Zamora also has advanced training in pediatric dentistry and oral pathology.
A dedicated lifelong learner, Dr. Zamora stays up to date with the newest dental and general health advancements so she can help her patients get healthy smiles for life.
Dr. Zamora and her husband, David Zamora, PhD, have been married for over 20 years. They have three beautiful children: Sophia, Mia and Zaman.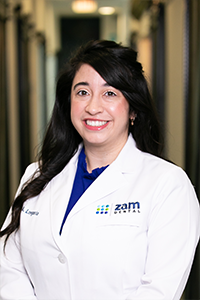 Dr. Aissa Longoria is one of the highly-skilled and driven dentists working to help her patients achieve beautiful and healthy smiles at Zam Dental in San Antonio, Texas. Dr. Longoria brings her compassionate and patient-centered approach to her work in general dentistry, cosmetic dentistry and emergency dentistry.
Dr. Longoria earned her Bachelor of Arts in biology at St. Edward's University in Austin, Texas. After her undergraduate studies, she attended the University of Texas Health Science Center at San Antonio, where she completed her Doctor of Dental Surgery.
Dr. Longoria is a compassionate, professional and skilled dental practitioner with experience diagnosing and treating various dental conditions. She is a naturally outgoing person who enjoys working with patients each day. Dr. Longoria strives to treat all patients like family and prides herself on ensuring her they are educated and empowered. This approach allows her patients more control over their oral health.
Through her private practice experience, Dr. Longoria has gained the skills necessary to diagnose and create successful treatment plans for patients of all ages. Her goal is always to listen to her patients' concerns and offer several treatment options that can promote their oral and whole-body health.
Dr. Longoria constantly pursues continuing education so she can provide high-quality and state-of-the-art dental care to patients. She is also an active member of several organizations within her field, including the American Dental Association® and the Texas Dental Association. Dr. Longoria is currently accepting new patients.
Kristin Soileau, DDS, FAGD, FAACA
Dr. Kristin Soileau completed her bachelor's degree at Texas A&M University and has been practicing dentistry since graduating from the UT San Antonio Dental school in 2006. She continued her education by completing an advanced general dentistry residency program in 2007 and served in the US Army from 2006-2012. Dr. Soileau is a fellow in the Academy of General Dentistry and a fellow in the Academy of Clear Aligners. She also serves as a board member for the Academy of Clear Aligners and leads a monthly AACA Orthodontic study club. As a Diamond Invisalign® provider, she is among the top 1% of Invisalign providers worldwide. She was thrilled to join the ZAM Family and enjoys provide airway-focused orthodontic treatment for all ages.
Kristin is married to her husband, Matthew, and they have two children: Hannah and Kaitlyn.
When not wearing her "Doctor" or "Mommy" hats, Kristin loves any outdoor sports adventures (at least those that do not involve heights), getting lost in a good book, singing along to Broadway musical soundtracks, serving at her church and dabbling in photography.
She is thankful to be a part of a profession that makes it easy to love and serve others and has spent time in Kenya, Costa Rica, Mexico, Nicaragua and locally volunteering at the San Antonio Christian Dental Clinic. It is her greatest privilege to show people love by providing them access to dental care.